7 Best Tactics That Triggers Urgency and Boost Conversion on Your Online Store
Wouldn't you feel ecstatic, when you will see a product that you have been wanting to get for a long time but wasn't able to do so for its hefty price, and suddenly you receive an email from the e-commerce store letting you know about the price drop of your most desired product? Wouldn't you also feel the urgency to get that product even more then? Now, this is just one of the ways how these online stores create urgency in people's minds and boost sales by making them take immediate action on completing a purchase.
Nowadays, we notice many times that an Ecommerce site is applying the Fear of Missing out (FOMO) technique to trigger the urgency to complete the purchase. People that shop online comes across these urgency-generating tactics applied by these eCommerce sites on regular basis. This is now a very common phenomenon that almost every online store practices to boost its revenue.
Now, if you are a new eCommerce business owner, and looking for ideas to boost sales through urgency marketing from your online business, then you will probably find this post extremely useful. As we will be discussing highlighting some of those simple yet proven urgency hacks that could improve your conversion rate impacting directly on your daily/monthly sales and eventually on your annual revenue.
So are you ready to explore the mantra of creating urgency to boost your eCommerce sales? Let's get on with it then.
7 Best Tactics That Triggers Urgency and Boost Conversion on Your Online Store
Write Strong Ad Copies Using The Right Words
Ad Copies with powerful words and a call-to-action can really create urgency to make a purchase nowadays. Whether your visitors will shy away or click on the CTA button to complete the purchase mostly depends on it. Moreover, time-related words create a different level of urgency among visitors. So make sure to utilize strong words in ad copies and CTA's like:
Limited time deal
Hurry!
Clearance Sale
Before it ends
Grab now
Last chance
Offer ends soon
One time offer only
Don't miss it
Today only
Offer Free Delivery Options Whenever Possible
Offering free delivery for a certain period of time can surely instill urgency among the visitors. Even better when you add a clause like "Free Delivery Only for Today". This will definitely create a sense of urgency as the study suggests that almost 3 quarters of customers expect free delivery. Moreover, many e-commerce sites also create even more urgency by adding wordings like "Delivery is free if you order within X numbers of hours". This tactic generally works well among both new and old visitors.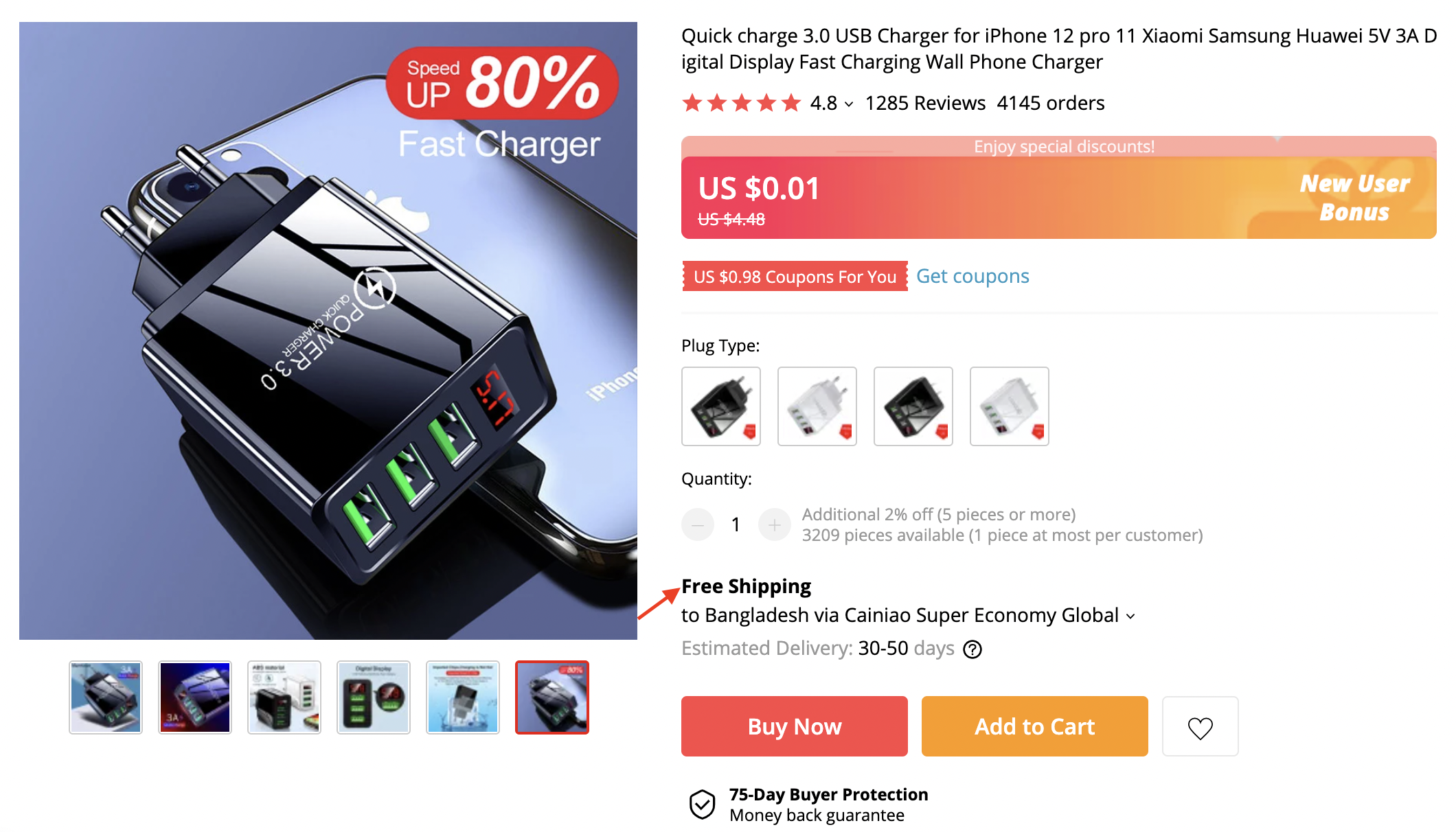 Many e-stores even promote their products by offering same-day or next-day delivery. This is another popular trick that most big e-commerce site uses to make the shoppers buy or act quickly. Interestingly you can even apply the same tactics for your cart abandoners via email offering them free delivery for completing their payment in a limited-time period.
Reminding your customers by leveraging them with a limited time window indeed create a great sense of urgency. So make sure to keep this free delivery option as a part of your offering in every campaign.
Highlight the Low Stock Warning on Product Display Page
Displaying the number of stock left on the product page under each product is another great way to create urgency for sales. This makes the visitor worried about missing out on the product if the stocks run out. Many e-commerce sites display the stock level with a bold font and colors preferably in red so that it catches the eye of the visitor easily. Not only this is helpful information for the customers to take action upon but more essentially, it rises the urgency level when they think about the chances of their favorite product being sold out soon.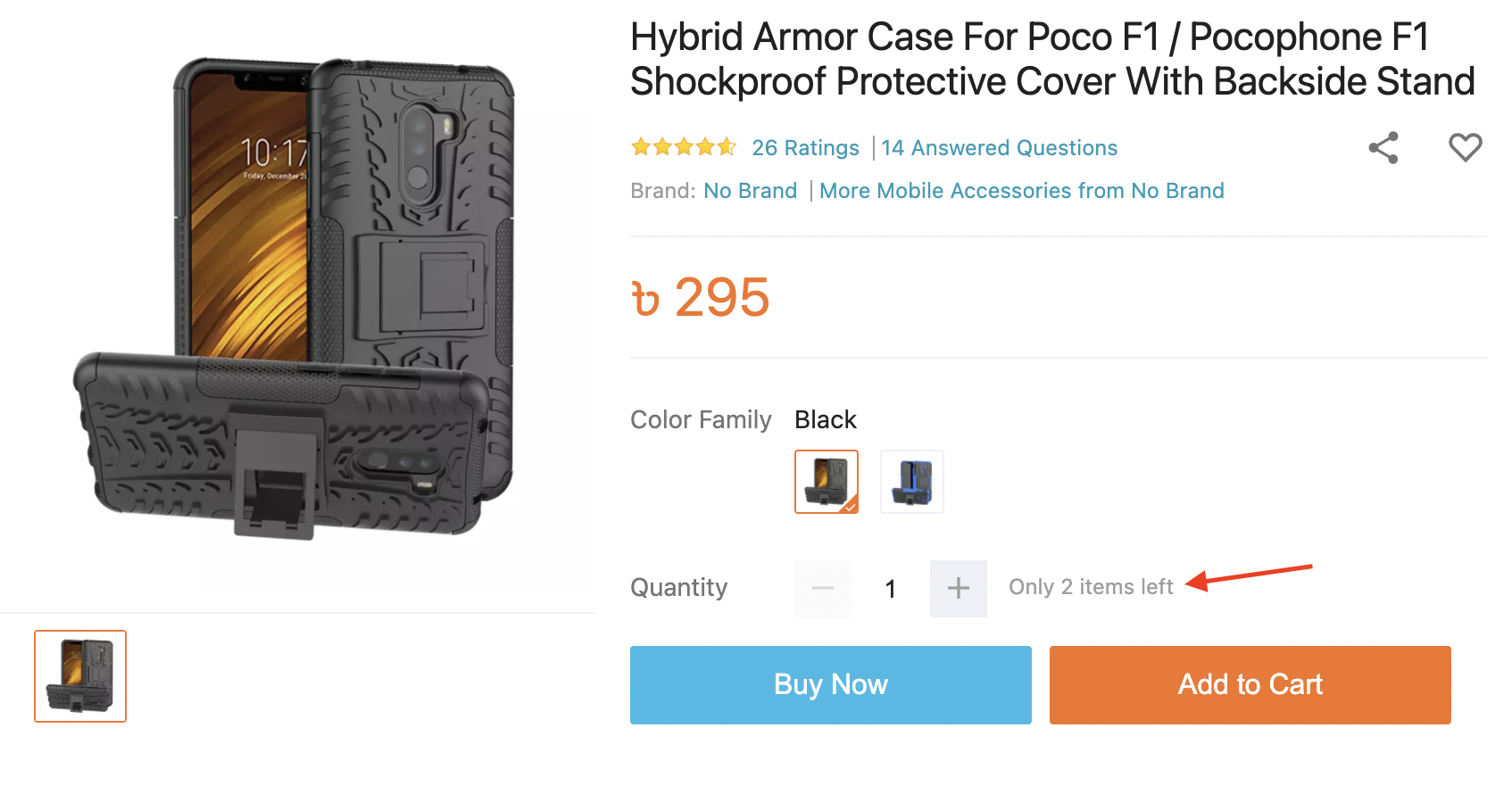 You can even use this tactic to create urgency in the mind of customers who have abandoned carts in your store. Send them emails urging them to take action mentioning that the product in his cart is quickly running out of stock and that they should get it before it is completely sold out.
This stock level display urgency technique works on a moderate percentage of customers as well so this should always be employed on the cart page and as well in cart abandonment emails to generate urgency and easing the path of conversion
Keep Creating Scarcity Among Customers
This urgency trick is related to creating scarcity in the mind of the customers making them feel that their browsed products are limited in stock or about to run out soon. Kinda like displaying the stock level discussed in the previous point. So highlighting how scarce your products or services make your potential customers feel that the product must be good which is why it is selling quicker and is about to run out soon. This level of scarcity certainly drives people to click on the 'Buy Now' button more than a product with an unlimited supply.
So more often than not, for eCommerce sites, it is a good idea to mention or highlight that the product or service that they are viewing on the site is of limited stock and if you don't act quickly it might run out soon. In the case of selling a service, you can display that you only allow a limited number of customers for a particular service each month.

Like for hotel booking service at Agoda.com, it displays a limited number of rooms available or gives them a vibe that the room is getting viewed by other visitors at the same time as you and might get booked by them anytime. This urgency of making the visitor feel as if you are about to miss out on a great deal for this room and this is when they feel an urgency to get it booked before others.
Notify Customers With Powerful Email Headlines
Make the subject line of your retargeting or marketing emails strong enough to create urgency or scarcity. Try to use powerful words like the ones mentioned above as well as time-related words. Use actionable verbs inside the email content and bright colors as this catches the attention of the potential customers more.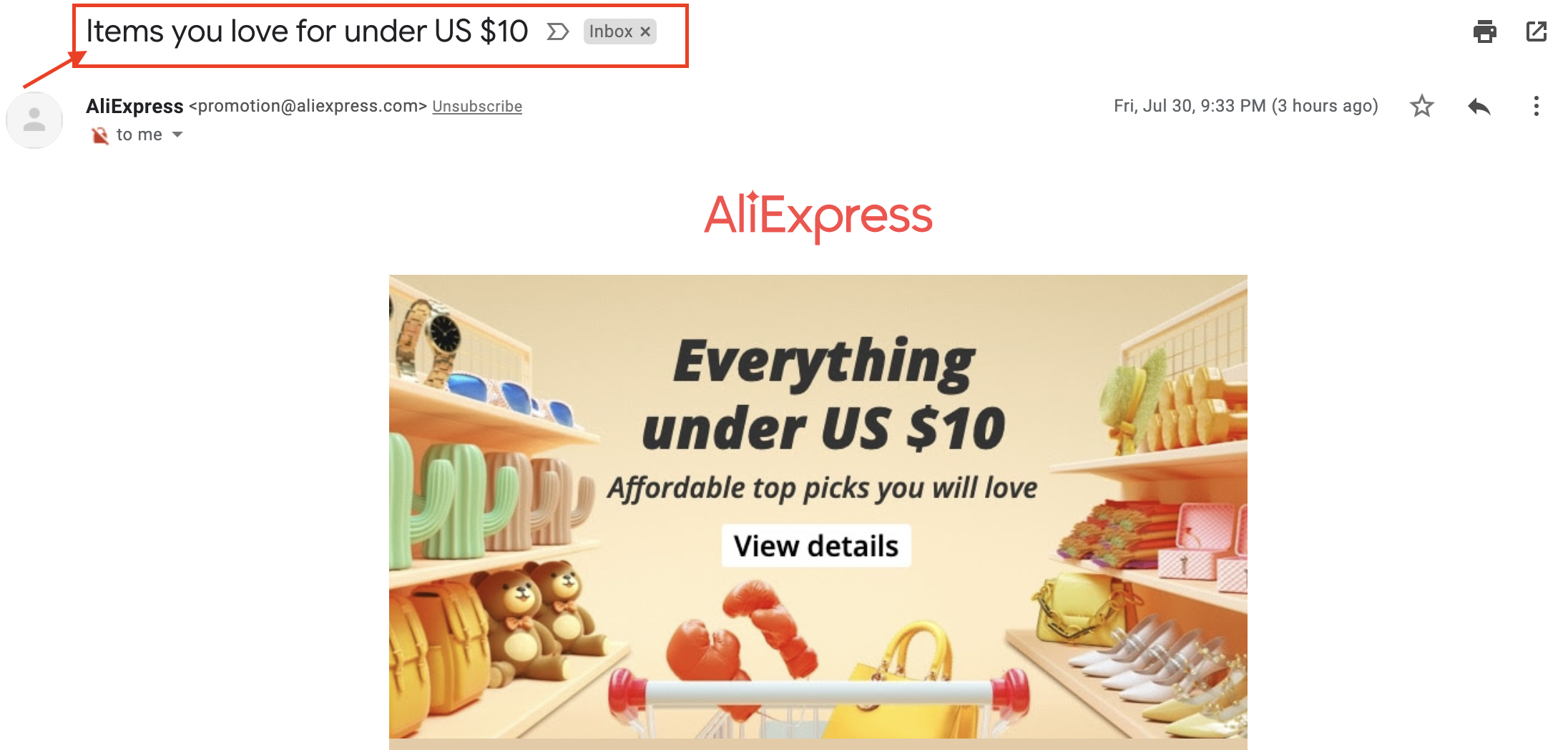 A catchy headline to grab the attention of your potential customer through email is your opportunity to make them open your email and eventually encourage them to visit your site to shop from it. So never forget to include headlines that easily cater to the subscribers if you want to generate urgency to make them shop your eCommerce site.
Give Flash Sales on Special Occasions
Special occasions or holidays like Christmas, Black Friday, Mothers Days, Valentine's day, Thanks Giving, etc are the best time to offer flash sales. And stats suggest that this boosts the sales of an eCommerce site even outside their peak times. So offering customized deals on such occasions is considered to be an effective way to encourage buying.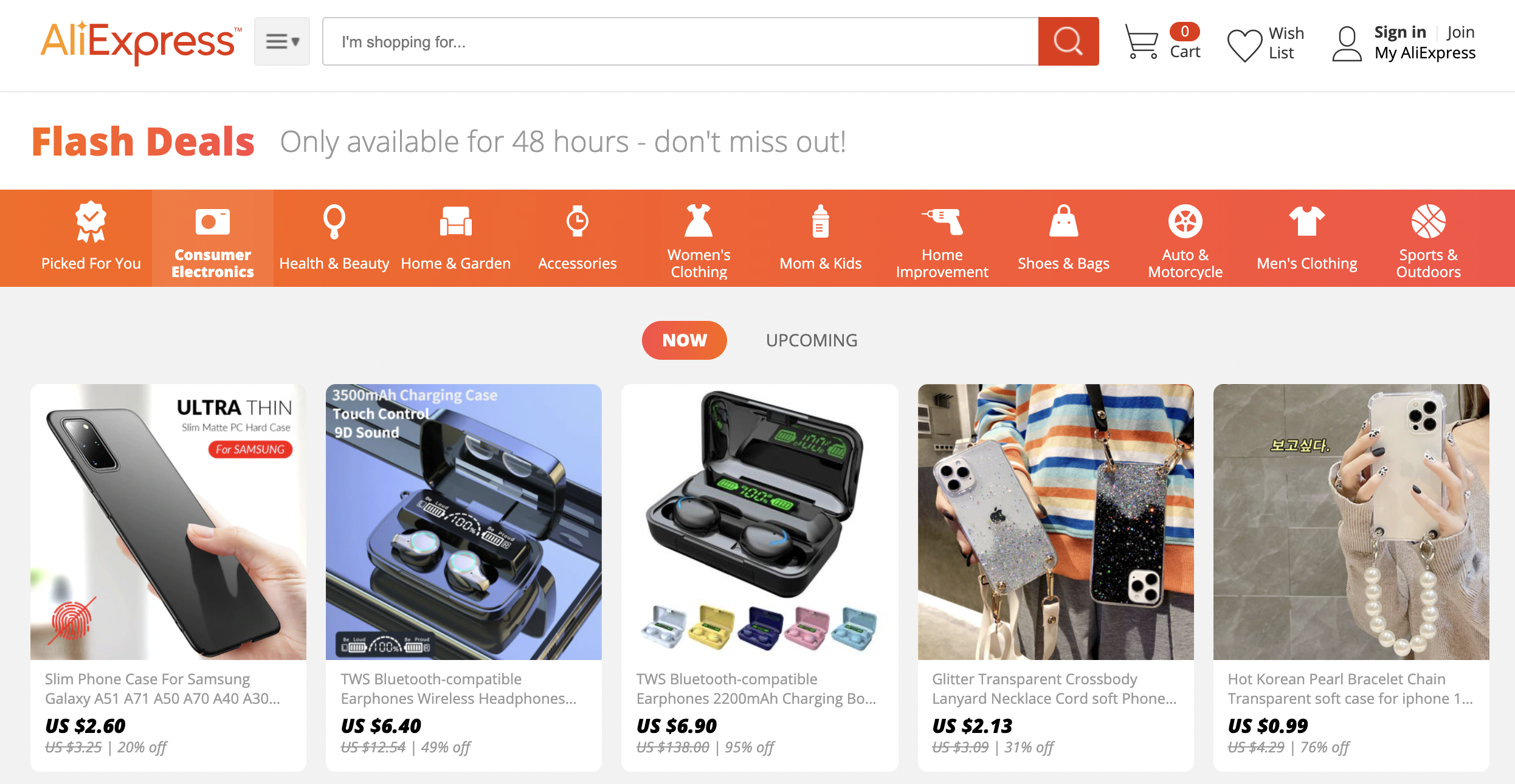 Make sure to alert the visitors with these exclusive deals highlighting them on every product page. Also on these special days, remind your customers about the deadline for these flash sales to encourage immediate action. Moreover, eCommerce giant like Amazon holds Flash Sales for its customers in the form of a campaign called Deals of the day or Offer of the day. This campaign deals with products at a discounted price for a day with a countdown timer attached to it.
Not to mention that these occasional flash sales should be notified to the customers via social media pages, emails, text messages combining them with the techniques of cross-selling to boost revenues further.
Prepare an Engaging "Don't Miss Out" Email
Marketing emails are still one of the most effective ways to convert sales of any eCommerce business. Email marketing still has the highest ROI among all marketing channels. And in terms of re-marketing or re-targeting your target audience, there still isn't any better way to reach out to your customers to promote your products or services today.
Hope this was helpful, drop other suggestions in the comment section.